During a magnificient celebration, arranged by the Tehran Anjoman e Mobedan at the Khosravi Community Hall, and on a day that coincided with Jashn e Esfandgan (Rooz Spedarmazd - Mah Spendarmazd, considered to be Mother's / women's day, an occasion meant for paying tributes to the Spiritual aspects of Spenta Armaity), a unique ceremony had been arranged with a view to glorify the position of women within our Society.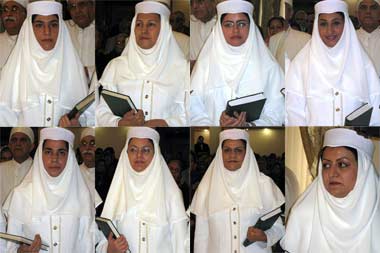 Eight out of fifteen candidates who had undergone stringent and extensive trainings in entire Avesta recitations - needed for carrying out our common Religious Rites, who had acquired high levels of Religious knowledge so as to to teach our Religious principles and general knowledge, to the laity, and committed to serve the Anjoman e Mobedan in the latter's quest for the upkeep of our past cultures and Religious values, were bestowed upon with titles as Mobedyars.

They are: Mrs. Mitra (Nee) Moradpour, Mrs. Mehrzad (Nee) kaviani, Mrs. Fariba (Nee) Mali, Mrs. Parva (Nee) Namiranian, Mrs. Sarvar (Nee)Tarapouvala, Mrs. Rashin (Nee) Jahangiri, Miss Paria Mavandi, Miss Behnaz naeemabadi.

The ceremony consisted of two parts: different lectures and a group recitation of a Ceremonial Jashan with Mobed Mehraban Firouzgary as the Zaotar (Zoot). A gist of the speeches that were rendered are as follows: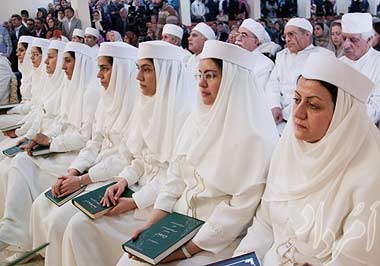 To start with, some verses of Gathas were recited.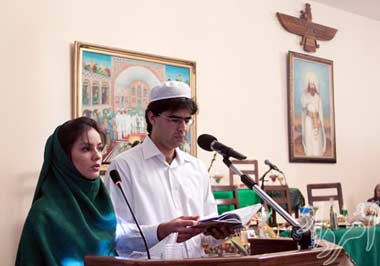 Then Mobed Pedram Soroushpour – who conducted the Ceremony- shed an insight into some aspects of the Gathas and the belief that Asho Zarathushtra named her daughter PaorooChista (Meaning equipped with much knowledge) to indicate His belief and desire that women ought to seek knowledge, especially Religion.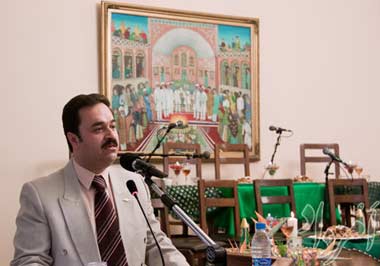 Prof. Katayoun Mazdapour – a Zartoshti researcher and university professor- was then invited to talk. She spoke about Asho Zarathushtra's stress upon the equality of men and women, as Human beings, and the Cultural heritage that He left behind leading into acts of Human Rights and much justice and peaceful attitudes all along.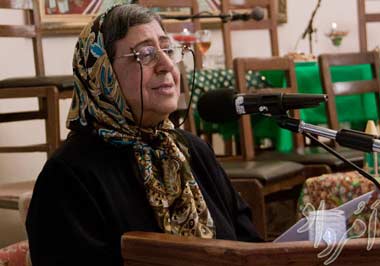 She then pointed out extracts from Hirbadestan (Aerepatestan), dating back to early Akemenian Dynasty, indicating that women acquired and imparted Religious knowledge in the same capacity as men for Religious practices, including the job of tending to the Holy Fire without any restrictions. In spite of all the above, however, outside influences and the victory of force over reason left the female subdued over by the male gender, until about few decades back when the emancipation of women came about and Saviors the likes of Gulestan Banoo Izadyar's revelations, to the Parsis of India, about the restrictions in Iran which culminated in the activities of ManekjiLimji Hataria, followed by several others and, of recent past, Farangis Shahrokh who brought about sweeping changes for the benefit of our Community, especially for our womenfolk. She said that wisdom is the only instrument to choose the truth.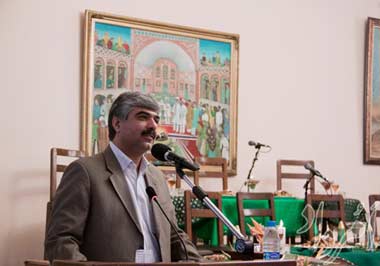 Dr. Esfandiar Ekhtiari – Zartoshtis' representative in Parliament - called this day as a very great and historic one. He marvelled at the insight and foresight of Asho Zarathushtra who put forward the very idea that it is the Humanity of human beings that count and not genders, race or material power. He counted this occasion as a demonstration of the advanced thinking of our Community and praised the Anjoman e Mubedan for not stooping to oppositions. He, also, praised the lady Mobedyars for their bravery and Religious fervor in spite of the fact that every one of them were highly educated and came from well to do families.
Dr. Ekhtiary presented each of the candidates with a gift as a token of his appreciation for their courageous endeavor.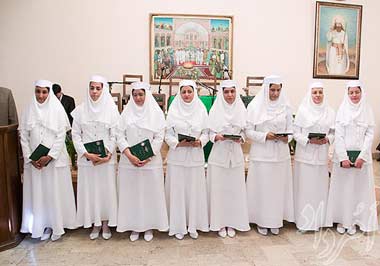 Mrs. Mehrangiz Shahzadi – the representative of "Zartoshti Women's Organization" – was the next speaker who talked of Frashkart. She said that the religion principles are strictly firm but subsidiary laws should be changed along the time and considered this event a good Frashkart.
Zartoshtis' Youth Organization" had sent a message to congratulate these 8 ladies as they have been active participants, organizers or judges of Manthra- a youth Religious Comitition held annually by this organization.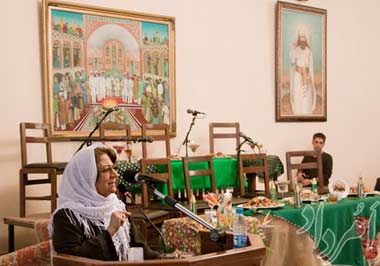 Mehrangiz Shahzadi, a BOD member of the Z Women Organization cited the limitations that existed for women in holding public posts in that, only a few decades back, the Tehran Zartoshti Anjoman, had held a Community referandom in order to decide if women could be elected to the Anjuman's Board Of Directors. The votes were, overwhelmingly in favor. As a result two ladies were elected then and that trend has continued ever since. Soon after that referendom Farangis Shahrokh founded the Iranian Association of Zartoshti Women, in Tehran, exactly 60 years back.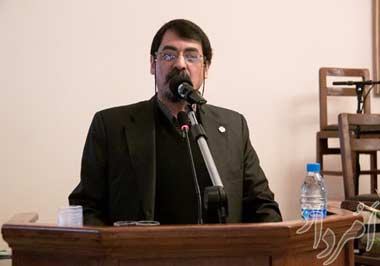 Dr. Rostam Khosraviani – the Tehran Zartoshti Anjoman president- was the next speaker. He praised the role that women have played in the fields of education and social work. He counted this occasion as a solid proof that our Community is progressive and praised the Anjoman e Moobedan for all the hard work and determinations that they have put in to achieve such a goal in spite of fierce oppositions from different quarters.
After that Mrs. Turan Bahrami – a Zartoshti poet - read her poem about women mobedyars.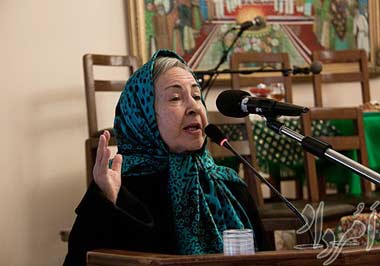 Mobed Dr. Ardeshir Khorshidian, the current President of the Anjoman e Mobedan began with praises for the high rate of literacy amongst our Community, both male and female.
He had prepared a three page written account of the set of rules listing the expectations and limitations of the Women Mobed Yars. To begin with they were expected to be, primarily, active in the fields of teaching and in helping this Anjuman spread our Religious knowledge and culture. As Mobed Yars they were welcome to perform Sedre Pushi, Jashans and other, limited, ceremony allowed to their male counterparts, however, only in case of emergencies or for times and places where the occasion demanded. To begin with and until formally announced the ladies would not enter any Atash Behram or Darbe Mehr Adorans to tend a Holy Fire, nor would they opt to pray at the burial ceremony in any Aramgah.

Mobed Ardeshir Khorshidian, also, listed the basic principles of Zartoshti Religion, amongst them, principles that uphold the equal rights of men and women as well as the one which states that the duty of Human beings is to make the world progressive (Frasho kereti) support this move.
In this part of the ceremony the Candidates received their Mobedyar Certificates and each one read out a statement expressing their thanks for being selected to such a Holy Post andf their commitments to serve the Community.
Mobed Pedram Soroushpour, who had played a very active role in the managements and success of the Subject program, while conducted the Initiation Ceremony spoke in details about the duration of the trainings and as to how eight out of fifteen candidates had passed the strict tests. Both he and Dr Khorshidian announced the Anjoman e Moobedans comitments to continue their efforts in maintaining decipline amongst the Priestly Class and their Yars(Assistants) and promissed the other ladies who are interested for further trainings and graduation to Women Mobed Yars.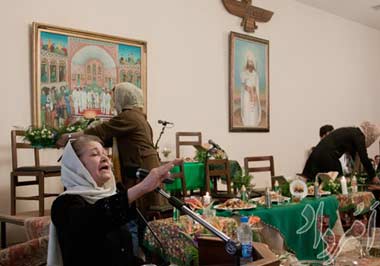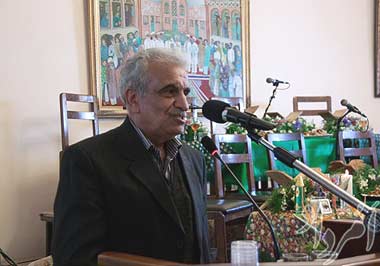 Mrs. Kharman yazeshni then came to entertain the people and after that, Tirandazifar –"Karaj Organization" representative- said his congratulations to these 8 women, stressing the extent that the candidate from Karaj had been active in teaching Religion to the Karaj youths and spreading Religious knowledge amongst the local Laity.
The ceremony was then continued with Avesta reciting – Rejoicing Jashan- which each one of this 8 mobedyars recited a part of it under - Mobed Mehraban Firouzgary's supervision.